Compare All
Icemule Pro XL 33L
YETI Hopper M20
Igloo MaxCold Voyager
Overall Score
Bottom Line
The insulation for the Icemule Pro was nearly as powerful as the YETI Hopper, which I didn't expect. And the ergonomic design and loads of padding on the back and shoulders makes this an easy cooler to travel with all day. This is the best value for money backpack cooler I've found.
The YETI Hopper M20 is the best-in-class backpack cooler I've tested. It's by far the most comfortable and it also has the best ice retention. But it's also the most expensive, and depending on your use-case, you might not need something as robust as the Hopper M20. If you want the best of the best, get the YETI backpack cooler. But if your budget is tight, look at Icemule.
This ugly little beast is the best budget backpack cooler I tested. It held more cans and was better at insulating compared to the Tourit. The Igloo MaxCold Voyager has a great price, though I'd bet you'll be looking for a new backpack cooler in three or four years, as it's not the most durable.
Pros

100% waterproof if sealed properly
33 liter capacity, which is the most on this list
Puncture resistant against fishing hooks and pocket knives

The best insulating power of any backpack cooler I've tested
Very comfortable design that's able to carry a lot of weight without discomfort
The MagShield Access opening is fantastic—easy to open and close and it's perfectly air-tight

Best space efficiency
Under $100
Lots of pockets make it great for a picnic, where you're bringing food and drinks

Cons

No separate carrying compartments

The inside has an extremely strong chemical smell that lasts for several weeks

Quite ugly
More of an insulated backpack than a true cooler

Value

(10%)

Capacity

(10%)

Insulation

(30%)

Durability

(20%)

Ease Of Use

(15%)

Portability

(10%)

Features

(5%)

Buy Now
Buy Now at Amazon
Buy Now at Amazon
Buy Now at Amazon

Specs
Icemule Pro XL 33L
YETI Hopper M20
Igloo MaxCold Voyager
Shelf Life of Food (Measured Days Below 40ºF)
27 hours
28 hours
Construction
Rubberized ripstop fabric and nylon
DryHide high density knit fabric
Nylon

Show All Specifications
Compare All
Icemule Pro XL 33L
Overall Score
Bottom Line
The insulation for the Icemule Pro was nearly as powerful as the YETI Hopper, which I didn't expect. And the ergonomic design and loads of padding on the back and shoulders makes this an easy cooler to travel with all day. This is the best value for money backpack cooler I've found.
Pros

100% waterproof if sealed properly
33 liter capacity, which is the most on this list
Puncture resistant against fishing hooks and pocket knives

Cons

No separate carrying compartments

Value

(10%)

Capacity

(10%)

Insulation

(30%)

Durability

(20%)

Ease Of Use

(15%)

Portability

(10%)

Features

(5%)

Get It
Buy Now at Amazon
Specs
Icemule Pro XL 33L
Does it Fit a Wine or 2L Bottle Standing Upright?
Yes
Exterior Dimensions
14"x11"x24"
Frosty Brew Rating
32 hours
Safe Meat Rating
27 hours
True Liquid Capacity
33
Weight
4 lbs empty

Show All Specifications
Compare All
YETI Hopper M20
Overall Score
Bottom Line
The YETI Hopper M20 is the best-in-class backpack cooler I've tested. It's by far the most comfortable and it also has the best ice retention. But it's also the most expensive, and depending on your use-case, you might not need something as robust as the Hopper M20. If you want the best of the best, get the YETI backpack cooler. But if your budget is tight, look at Icemule.
Pros

The best insulating power of any backpack cooler I've tested
Very comfortable design that's able to carry a lot of weight without discomfort
The MagShield Access opening is fantastic—easy to open and close and it's perfectly air-tight

Cons

The inside has an extremely strong chemical smell that lasts for several weeks

Value

(10%)

Capacity

(10%)

Insulation

(30%)

Durability

(20%)

Ease Of Use

(15%)

Portability

(10%)

Features

(5%)

Get It
Buy Now at Amazon
Specs
YETI Hopper M20
Construction
DryHide high density knit fabric
Does it Fit a Wine or 2L Bottle Standing Upright?
Yes
Exterior Dimensions
9"x18"x18"
Frosty Brew Rating
33 hours
Safe Meat Rating
28 hours
True Liquid Capacity
20
Weight
5.6 lbs empty

Show All Specifications
Compare All
Igloo MaxCold Voyager
Overall Score
Bottom Line
This ugly little beast is the best budget backpack cooler I tested. It held more cans and was better at insulating compared to the Tourit. The Igloo MaxCold Voyager has a great price, though I'd bet you'll be looking for a new backpack cooler in three or four years, as it's not the most durable.
Pros

Best space efficiency
Under $100
Lots of pockets make it great for a picnic, where you're bringing food and drinks

Cons

Quite ugly
More of an insulated backpack than a true cooler

Value

(10%)

Capacity

(10%)

Insulation

(30%)

Durability

(20%)

Ease Of Use

(15%)

Portability

(10%)

Features

(5%)

Get It
Buy Now at Amazon

Specs
Igloo MaxCold Voyager
Construction
Nylon
Does it Fit a Wine or 2L Bottle Standing Upright?
Yes
Exterior Dimensions
2"x10.7"x17"
Frosty Brew Rating
25 hours
Safe Meat Rating
19 hours
True Liquid Capacity
2
Weight
3lbs empty

Show All Specifications
If you've ever picked up a hard-sided cooler, you've probably thought: why is this so insanely heavy?
The kind of hard coolers YETI made popular are basically indestructible. But they're also terrible if you want to bring some frosty beverages on the trail with you.
That's where backpack coolers enter the equation.
While I love my hard coolers, I still want to crack a frosty brew when I reach the top of the mountain. But when I started searching for the best backpack cooler, I was overloaded with options.
To save you the trouble, I bought a bunch. And I tested them all against each other to find out which backpack cooler has the most storage, keeps ice the longest, and is the most comfortable when traveling.
How Did I Test These Coolers? Why You Should Trust Me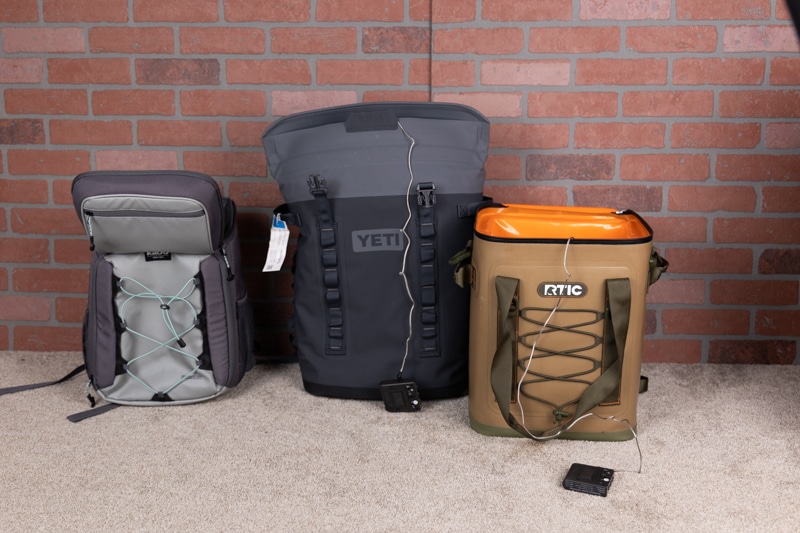 I've got a scientific mind, so I love to dive into all the details and really review these coolers.
I tested the YETI Hopper M20, the RTIC 20-can Backpack, the Igloo MaxCold Voyager, the Icemule Pro XL 33L, and the Tourit Cockatoo. From what I can see, these are the most popular backpack coolers on the market right now.
I tested each cooler by placing 3.5lbs of ice and measuring the internal temperature over the course of 40 hours.
Each test was done in a temperature controlled room in the dark to try and minimize any outside temperature inconsistencies.
I bought each of these coolers myself—none of them were provided by the brands.
I've also taken each of these backpack coolers on a trip and worn them around to get an idea of how they feel and what they're actually like to use regularly.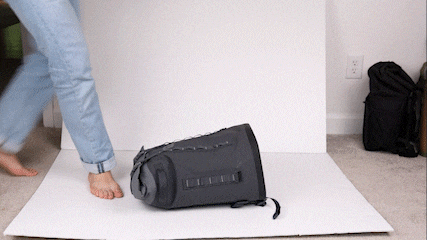 And as you can see in the video above, I've also done a few "out of the box" experiments with these coolers, too. Leave no stone unturned, as they say.
I've put all my tests and results down below my recommendations if you're interested in diving into why I ranked certain coolers over the others.
5 Best Cooler Backpacks in 2023

True Liquid Capacity: 33

Hours Below 40º F: 27 hours
Pros:
100% waterproof if sealed properly
33 liter capacity, which is the most on this list
Puncture resistant against fishing hooks and pocket knives
Cons:
No separate carrying compartments
The Icemule Pro is a rubberized roll-top backpack and I think it offers the best value for your money.
While it didn't outperform the YETI in many aspects like efficiency and ice retention, it's less than half the cost and it still does a fantastic job on overnight trips.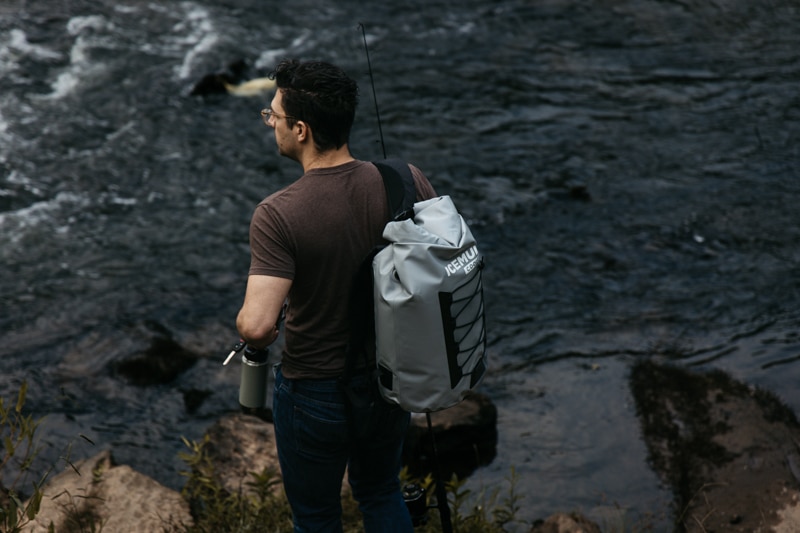 Plus, because I do a lot of kayaking and love to be out on a river or lake, I love that I can keep some air in this bag and make it buoyant.
There are several sizes you can get, but I think the XL 33L is the way to go.

True Liquid Capacity: 20

Hours Below 40º F: 28 hours
Pros:
The best insulating power of any backpack cooler I've tested
Very comfortable design that's able to carry a lot of weight without discomfort
The MagShield Access opening is fantastic—easy to open and close and it's perfectly air-tight
Cons:
The inside has an extremely strong chemical smell that lasts for several weeks
The YETI Hopper M20 is the best backpack cooler all around. It's also the most expensive.
To be honest, I mostly use the YETI Hopper M20 (unless I'm going kayaking, where I use the Icemule). It's the most durable of the backpack coolers I tested, and the magnetic opening strip on top is borderline magical.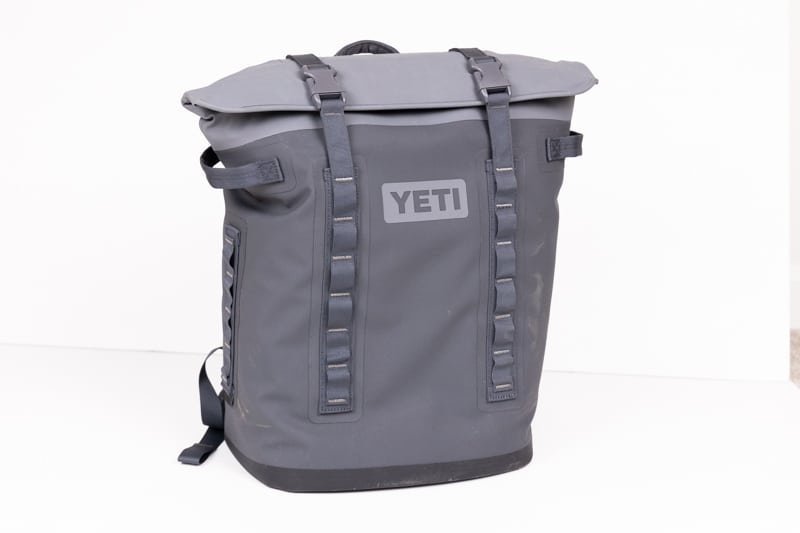 If your main concern is quality and money is lower on the priority list, then the YETI Hopper M20 is the best way to go.
Pros:
Best space efficiency
Under $100
Lots of pockets make it great for a picnic, where you're bringing food and drinks
Cons:
Quite ugly
More of an insulated backpack than a true cooler
I appreciate Igloo. They always make these ugly little coolers that perform really well in all my cooler tests. They know what they do best.
The Igloo MaxCold Voyager is a fantastic backpack cooler under $100. Sure, it doesn't keep ice as long as the YETI or RTIC, but in a lot of ways, it's also more practical.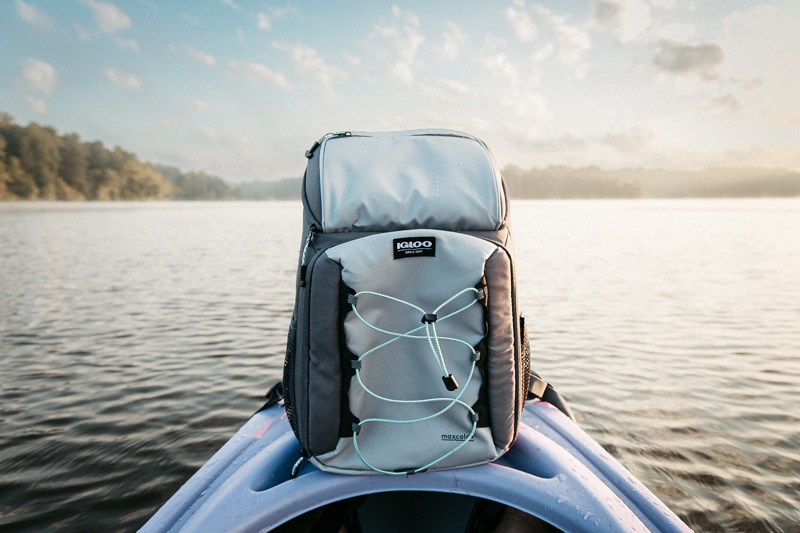 Because the Igloo MaxCold Voyager has three major compartments, you can carry a wide variety of items and keep them separated. I think this is an ideal setup for parents, when you need to have snackies at the ready.
Sure, the bulbous pastel design might not make you look like a wandering ranger, but I'd bet you can access your chilled orange slices in three seconds, flat.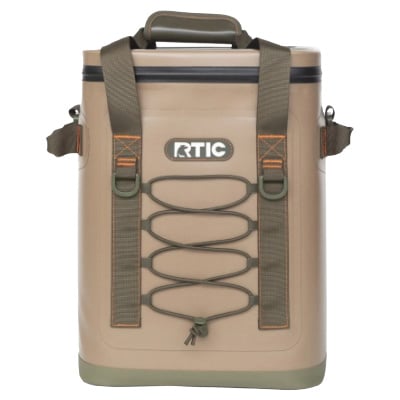 Pros:
The top is very secure, so once your backpack is closed, nothing is going to come out
The shape is easy to store and pack in the back of a car
It can keep food-safe temperatures for 24 hours (with 3.5lbs of ice)
Cons:
It's not as comfortable to wear on hikes as some competitors
The zipper is difficult to open and close
Its capacity and insulation lags behind at least one other similarly priced competitor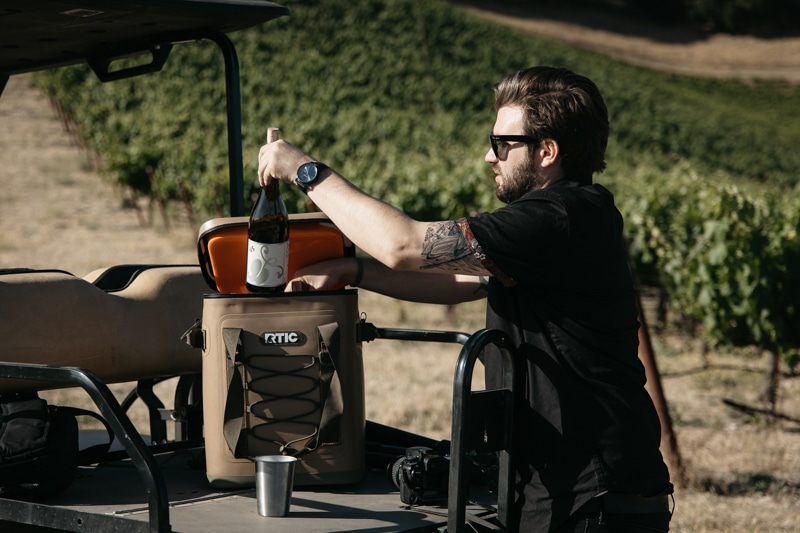 The biggest win for the RTIC backpack cooler is when I put two expensive bottles of wine in it and charged a huge hill on a golf-cart—the cooler flew off the back of the cart. And both bottles of wine were spared.
So that made me love this cooler no matter what.
But it's not the most comfortable to wear, and I don't recommend it for hikes or anything that requires you to focus on your balance. The rectangular shape doesn't sit well on your back when fully loaded, so it can shift and cause you to slip if you're trying to scramble over a boulder.
But if you're having a chill day at the beach and it's your job to bring the cold cervezas to the party, the RTIC 20-can Backpack Cooler is the best option. It holds 20 cans, with ice, and has no problem keeping things under 40 degrees for 24 hours.
Best Under $50: Tourit Cockatoo Backpack Cooler
You might notice in my test results and analysis section below that the Tourit Cockatoo got beat up on every test. It was pretty much last place for everything I closely looked at.
But it's important to note that it's still a solid cooler backpack. For one thing, it's the only backpack cooler I tested that was under $50.
The Tourit Cockatoo is more like an insulated backpack than a true cooler, so I wouldn't store perishables overnight in it. But if you're just packing some snacks and drinks for the afternoon, then the Cockatoo is a fantastic, inexpensive choice.
Best Backpack Coolers: Test Results and Analysis
To come up with the list above, I did a series of tests to get some hard data. I also just tested the coolers on trips like a normal person.
My tests for the backpack coolers were:
Measuring the internal temperature for 40 hours with 3.5 lbs of ice
Measuring how many cans each could hold
Dividing the number of cans a cooler could hold by its total liter capacity (efficiency)
Real life tests, like how it felt and how easy it was to carry
Let's dive into each.
Value
Value for money is subjective, because sometimes a certain feature makes a cooler worth any amount of money (ok, maybe not that extreme, but you get what I'm saying).
But for me, the Icemule Pro XL 33L is the best value-for-money adventure-ready cooler on the market.
The Icemule successfully keeps food-safe temperatures for over 24 hours and it's easy to throw on your back, even when it's full of ice and drinks. So it checks the main boxes for me.
If I had to pick a favorite backpack cooler, costs aside, I'd pick the YETI Hopper M20 because it's the most snug and secure on my back and the high density fabric is a bit stiffer and more durable.
I still choose the Icemule as my top pick overall because it costs less than half of what the YETI does.
The RTIC is roughly the same cost as the Icemule, but it's not as easy to take on adventures and walk any distances with. It also doesn't match the Icemule's insulation power.
The Igloo and Tourit are the least expensive, but I almost see them as a different category—both are more like insulated backpacks, rather than coolers that can be worn on your back.
Capacity
You can't go off of liquid quart capacity alone. How much a cooler carries really depends on the internal dimensions of the cooler. So two coolers could have the same liquid capacity but have totally different practical capacities.
So I created a measurement called the "space efficiency ratio." It's the liter volume divided by number of cans the cooler can hold with ice included. Here's how all the backpack coolers compared against one another: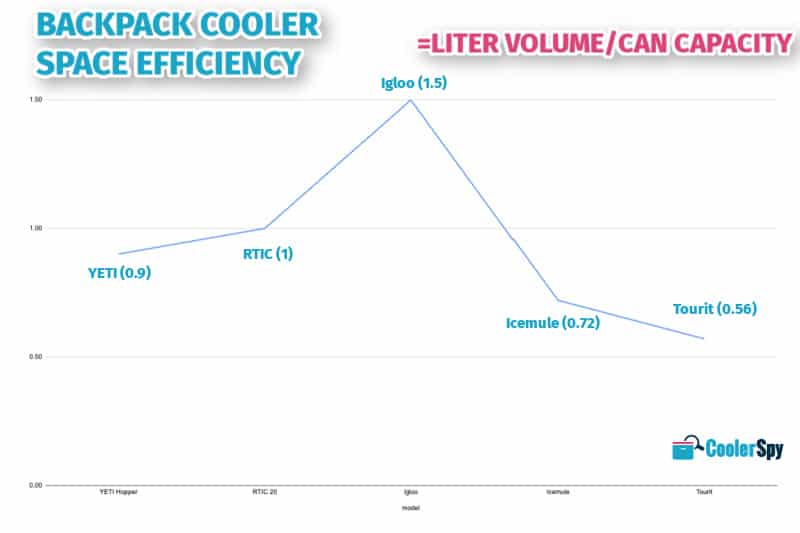 The Igloo MaxCold Voyager was the big winner in this category because it has two pockets. It can technically hold more cans, though I have to note that the insulation on the outer pocket is probably not nearly as good as its main compartment—and even that wasn't great comparatively.
Still, the Igloo's ugly design is great for holding a lot of cans.
With both the Icemule and the YETI Hopper M20, you could pack a picnic for 6, including 12 cans, sandwiches, and some fruit to go along with as well as a few pounds of ice.
I prefer the size of the YETI and the Icemule over the other packs—even if they're less efficient, they still have more room overall.
Here are the actual capacities for all the coolers tested:
The Icemule has the most liquid capacity, but it's not as efficient with the space as the YETI, RTIC, or Igloo. The Icemule is large enough that you should also take into consideration the weight—these things can get over 50 lbs when fully loaded with ice and drinks.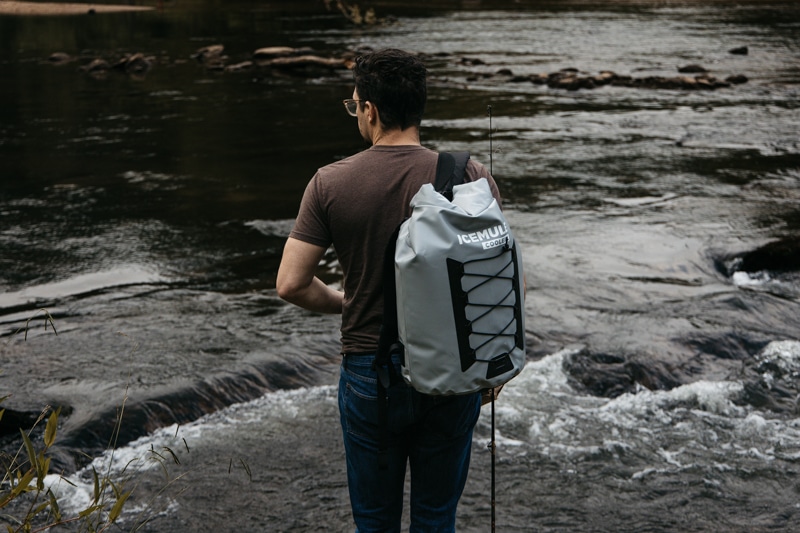 I think 50 lbs is fine for a healthy man to hike with all day, but that weight might be a bit too much for other folks.
Insulation
YETI had the best insulation performance and held ice the longest.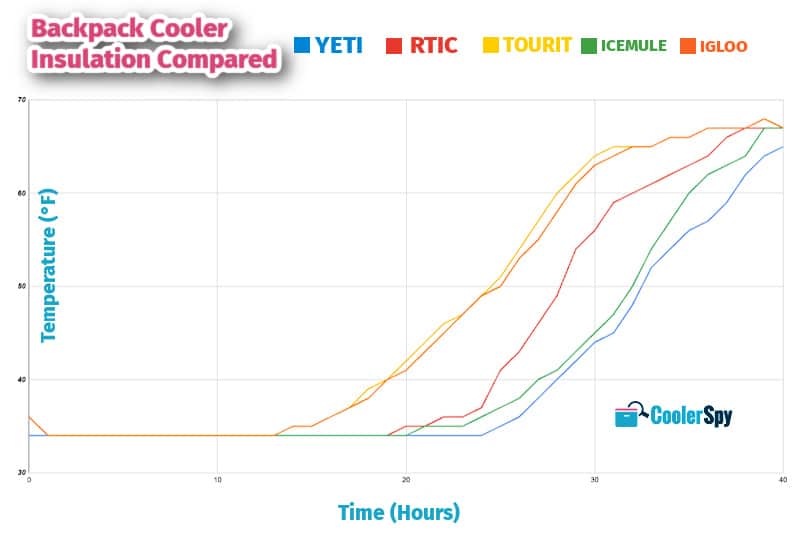 I ran my test for 40 hours, at which point all the other coolers had been sitting at room temperature. Only the YETI was still below room temperature at 40 hours, but not by enough that it was worth continuing the test.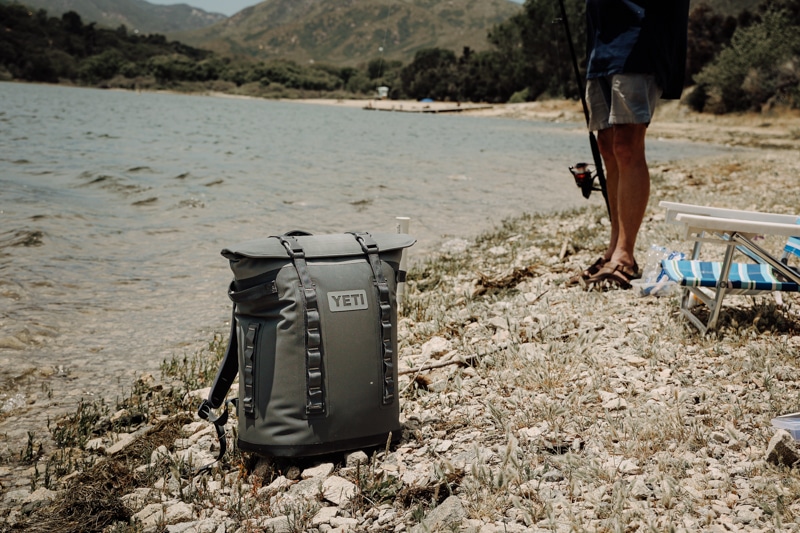 The Icemule came in second and held its contents below 40 degrees (the food-safe temperature limit) for 27 hours. The RTIC held that temperature for 24 hours, and the YETI held that temp for 28 hours.
How long can a backpack cooler hold ice for?
The best insulating cooler backpack, the YETI Hopper M20, held ice for 25 hours. The average length of ice-retention for a backpack cooler is 19 hours.

The Igloo and Tourit held at or below 40 degrees for 19 hours.
And if it's frosty beers you're after, the Icemule kept cans at or below 50 degrees for 32 hours, compared to the YETI's 33-hour performance.
So while the YETI Hopper M20 was the king of insulation in my tests, you can see that the Icemule wasn't far behind at all, which really surprised me.
Durability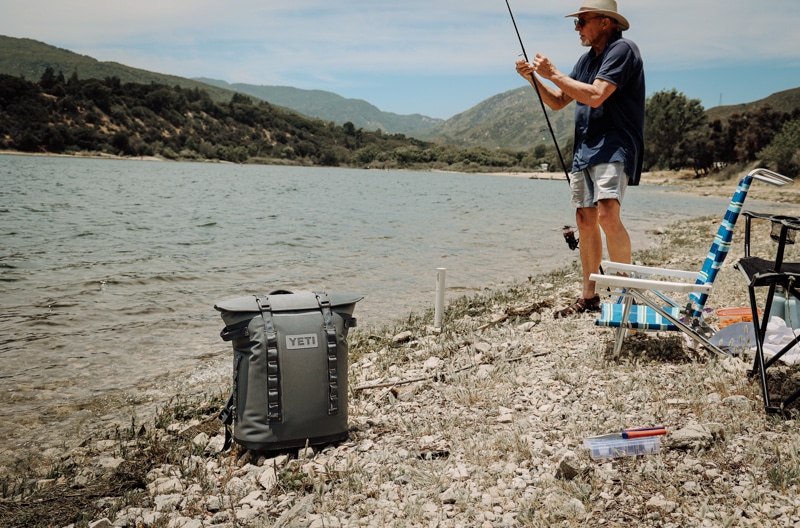 Durability is harder to test, but I actually got a good chance to put several of these coolers through rigorous real-world conditions.
Like I said, I did a lot of river scrambling with the YETI Hopper M20 and it performed really well. With the RTIC 20-can, it flew off the back of an off-road golf cart while jamming up a hill—it had two bottles of super nice wine in it and kept them both safe. And the Icemule went on a fishing trip with me and had a bunch of hooks and lures bouncing around inside it.
While they all held up just fine, my feeling is that the YETI Hopper is the most durable. The shell is a high density fabric that feels much more stiff than any of the competitors.
I'd say the YETI is the best suited for rugged travel.
I'm a little less confident in the RTIC and Icemule because their shells are a sort of rubberized fabric that seems like it could tear if really stressed.
That said, it wouldn't be fair to say that either aren't durable—they are, and probably plenty durable for whatever you're planning. But the YETI's harder shell seems more sturdy.
Portability
The biggest draw of a backpack cooler is its portability, especially when you compare it to a hard cooler.
The YETI Hopper M20 is my favorite cooler backpack in terms of comfort.
The Icemule is right behind it, but the YETI felt much more balanced on my back, which also makes it safer.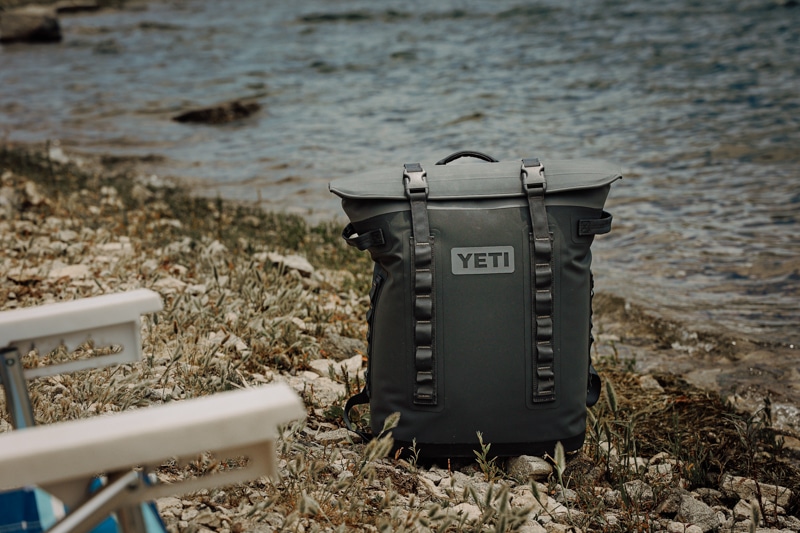 And that's one of the reasons I actually don't think the extraordinary price difference between YETI and the other brands is too extreme.
If you're doing something that's a little dangerous like scrambling over boulders, having something that sits secure and comfortably on your back is important. The YETI does this the best, which is why I recommend stumping up the extra cash if your hikes tend to get more wild than the average.
Like for me, I rarely turn down the chance to hop over a few rocks to get to the best view. So over time, the slimmer design and more secure fit makes the higher cost more and more reasonable.
The Icemule is also very comfortable and easy to use, and I actually prefer it for kayaking because it holds more air and doubles as a dry bag. But the extra size and softer rubber shell can be a liability if I'm around sharp or abrasive rocks.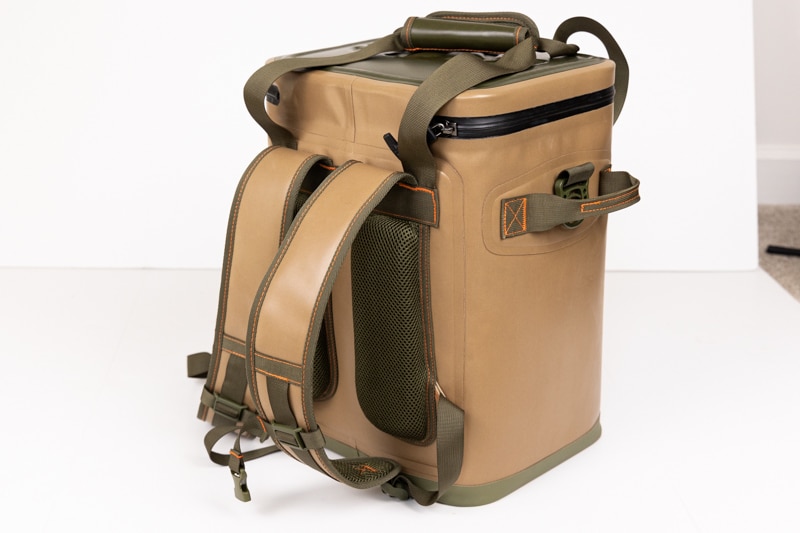 The RTIC backpack cooler is just a big square you put on your back. It's not uncomfortable, but it's a big square.
Both the Tourit and Igloo were decent in terms of portability. They're like any regular backpack, and carrying them felt like the first day of school when you'd get all your textbooks at once and have to lean forward to lug them from class to class.
Which Cooler is Right For You?
If I were only getting one backpack cooler and wanted the best value for my money, I'd pick the Icemule Pro XL 33L.
It's puncture proof, floats in water, keeps food and drinks under 40 degrees for over 24 hours, and is really comfortable to hike with. And the price is very reasonable.
If you're ready to spend and want the absolute best quality, then get the YETI Hopper M20. The YETI performed the best all-around in my tests and it's built like a tank.
And if you're on a strict budget, check out the Igloo CoolMax Voyager. It's not the best looking cooler backpack, but it gets the job done and carries a lot.
Now let's get to the fun part: where are you going to take your new cooler?
FAQs