Sure, it's nice to get a dimensions sheet when you're shopping for a new cooler, but you're looking for specific answers.
I'm going to break down all the different YETI cooler sizes, including how much each can carry, and I'll also dive into which sizes work best for fishing, hunting, camping, and tailgates.
By the end, you'll know exactly which YETI size is your best choice.
YETI Cooler Sizes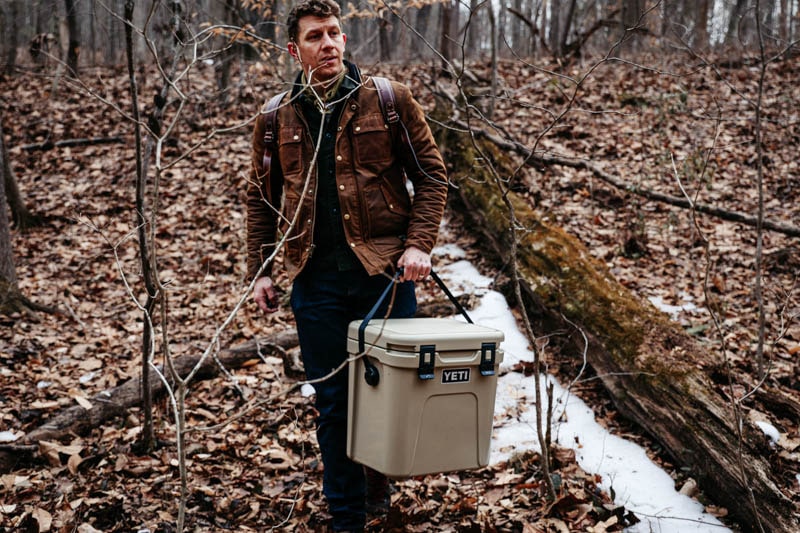 While most other cooler brands like RTIC, Orca, Igloo, and Pelican name their models after their respective quart capacity, YETI doesn't.
That little number after the model name doesn't actually represent the amount that any particular YETI cooler can carry.
What do I mean?
A YETI Tundra 45 doesn't carry 45 quarts (it carries 37.6 quarts).
So that means you'll want to double check any YETI you're about to buy to make sure it has the capacity you need for your next adventure.
But that's not the only important measurement: you'll also want to know whether your YETI can fit in your trunk, tie down to your truck-bed, fit in a kayak, under a boat-seat, etc.
Below you'll find all the necessary info on both the size and capacity of every YETI hard cooler. And that includes how much each weighs, how many cans each can carry, how much ice one holds, and if one dude can carry the Yeti solo.
Which size YETI should I buy?
You may have a special-use case, like for hunting, fishing, or outdoor adventure. If that's true, read through the notes I have on the various models. Otherwise, my favorite YETI sizes are the Roadie 24, Tundra 45, and Tundra 125. They're all extremely versatile and carry enough for a day, a weekend, and a full week of supplies.

YETI Capacity Chart
Sometimes knowing how many liquid quarts fit in a cooler doesn't actually help. Sometimes you need to know the special use cases (like how many beers can a YETI carry).
Roadie 24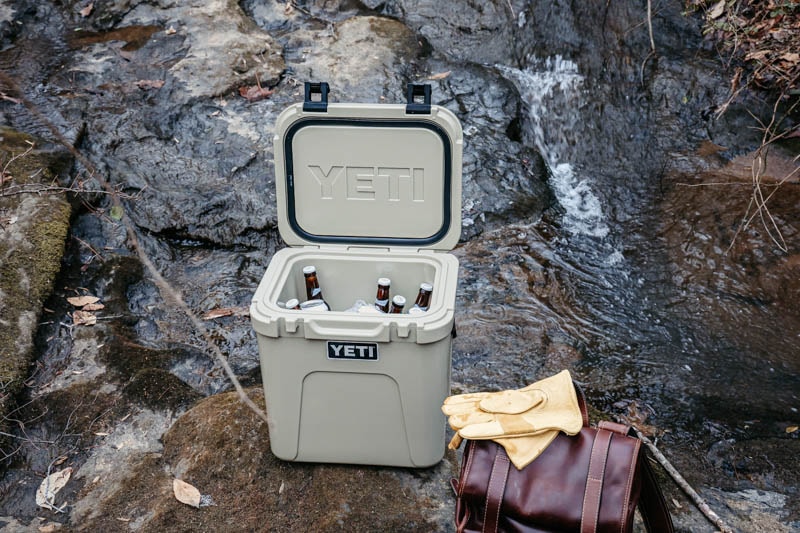 The YETI Roadie 24 is a fantastic size for a quick day-trip getaway, and I've even used it for a few overnight camping trips. The chart above says it can carry 24 pounds of ice, which is true, but you wouldn't have room for anything else. I just use a seven pound bag of ice for this and it holds the temperature below 40 for over 60 hours.
The Roadie 24 can be tied down into a kayak, canoe, or paddle board. You can bring it to a jobsite (though it's pretty huge for a personal lunch box—maybe if you're carrying the crew's lunches). It also ties down easily to a truck bed or a cargo carrying rack, while leaving plenty of room for other goodies.
You can likely carry the Roadie 24 with one hand, though it's quite heavy when fully loaded. I've hiked a few miles carrying a full Roadie 24 and it was certainly a workout. It can weigh anywhere between 30 and 50 pounds depending on what you're carrying.
YETI Tundra 45
The YETI Tundra 45 is about as big as you can get and still have a one-man solo carry. When the 45 is fully loaded, it can be a test on your low-back. I'm in my early 30s and still have the urge to carry everything myself. If you're just moving around the campsite, you'll be ok. And if you're running it from the parking lot to that perfect spot on the beach, you'll make it work.
But anything further, you'll want two people.
I divided the number of cans each YETI is able to carry by the number on the end of its name (i.e. 24/18 for the Roadie 24) to come up with a rough estimate of how efficient each YETI cooler is with its design.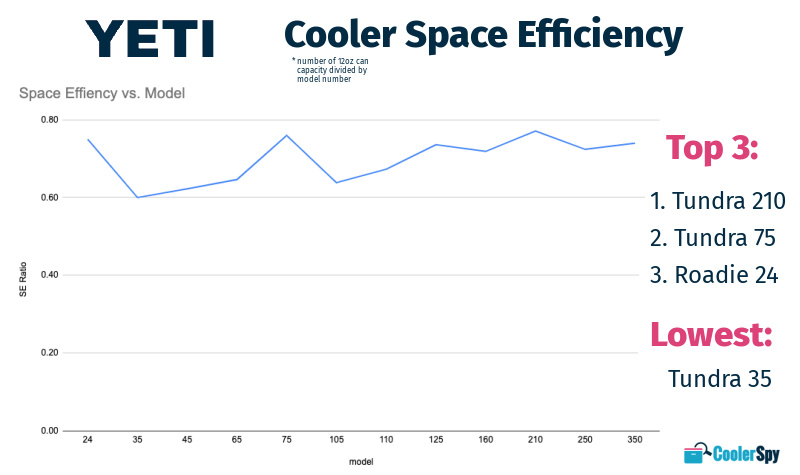 The YETI Tundra 45 has the second worst ratio at 0.62 (45 divided by 28—the number of cans it'll hold). The lowest ratio is the Tundra 35 at 0.6. If you're going for a larger size YETI, I'd stick with at least the 45, as YETI's generally get more space efficient as their size increases (the 65 is more space efficient than the 45, the 75 more than the 65, etc).
The major exception is the Roadie 24, which is the smallest YETI and nearly the most space efficient (only the Tundra 75 and 210 are more space efficient).
YETI Tundra 75
The Tundra 75 is designed to the specifications of most marine vessels, so you'll be able to store your YETI under the leaning post on most boats. The Tundra 75 has a space-efficiency ratio of 0.76, making it the second-most space efficient YETI.
To make it shorter, YETI also builds the 75 a bit longer, making it much more difficult for a single person to carry, regardless of the weight. Still, when this cooler is filled, a one-man carry is out of the question, as it can weigh up to 100 pounds.
YETI Tundra 110
The YETI Tundra 110 is designed specifically for the rafting community as it's built to match standard raft frames. Of course, you can use the 110 for other purposes, but if you're looking for a YETI to take on a multi-day excursion down river, the Tundra 110 is your best choice.
YETI Tundra 125
You can fit an entire quartered deer into the YETI Tundra 125. Good luck carrying it back to the truck.
I consider the Tundra 125 the smallest size that's adequate for hunting trips. While you can fit some game into a 75 or 110, any large animal will need more space.
Of course, if you're not into hunting, you can also fit 92 beers into the Tundra 125.
For serious hunters, start your search with the 125.
YETI Tundra 160
Offshore fishers rejoice: the Tundra 160 is your best choice as it'll fit larger ocean species like tuna, wahoo, and mackerel.
If you're going on an extended trip of a week or more, this is getting into the size you'll need for a few people's supplies.
YETI Tundra 210
This is the most space efficient YETI cooler available, with an efficiency ratio of 0.77. Just make sure you check the dimensions of the 210 before buying because it's huge and you'll definitely need a dedicated space for it.
There are only two larger YETI coolers, the Tundra 250 and 350. I consider these sizes to be more for commercial use, like on offshore fishing boats or commercial outfitters.
YETI Dimensions
I've noted all the specific dimensions for all YETI hard coolers above, but you may have questions specifically on YETI's most popular models. I've made some notes on YETI's best-sellers to give you a better idea of how they compare with one another.
YETI Tundra 35
The YETI Tundra 35 is the least space-efficient of all YETI coolers. I recommend either choosing the Tundra 45 or the Roadie 24 (the 45 can last a full weekend, and the 24 can be taken anywhere—the 35 doesn't quite do either).
Compared to the Roadie 24, the Tundra 35 is nearly two inches shorter, but nearly five inches longer. It's more squat, and has many similar dimensions as the Tundra 45.
The Tundra 35 is surprisingly taller than the 45, and they both have the same width. That means with an extra four and a half inches of length, the Tundra 45 is able to carry an extra 2.2 gallons, or seven pounds of ice.
YETI Tundra 45
The YETI Tundra 45 is the largest YETI cooler most guys can carry alone. Beyond the 45, you may need some extra muscle to get your YETI to and from your destination.
The Tundra 45 measures in at 15 ⅜" x 25 ¾" x 16 ⅛". It has the same depth as the Tundra 35, but it's a fraction shorter and four and half inches longer. This size is ideal for throwing into the bed of your truck or in a hatchback and taking off for the weekend.
I think the Tundra 45 is able to hold supplies for a small family for a two-night camping stay, but I can't say the same for the 35. While the Tundra 45 doesn't score very well on the space-efficiency ratio, it's a reasonable size cooler for most weekend trips.
It's one of my favorite sizes because I can carry it on my own, even when it's full. Sure, it's super heavy when it's full, but I can lean back and shuffle forward to get it where I need it to go.
YETI Tundra 65
Now we're getting into the big dogs. The Tundra 65 is significantly longer and a bit taller and wider than the 45. You get a boost in space efficiency and overall carry capacity (nearly five gallons more).
The Tundra fits well into hatchbacks, but if you have a truck and can afford to store a little extra height and length, I recommend the Tundra 75 over the 65. The 75 has much better space efficiency than the 65 (it's one of YETI's top three), so you'll be able to squeeze more into it.
Best Size YETI Cooler
You can't go wrong with a YETI. I've personally tested many of these models against other brands like RTIC and Orca, and YETI is consistently among the top brands.
But when choosing the right size, you probably have special considerations. What do you think you'll use your cooler for the most?
Me? I take mine to the beach and camping often. I need something that fits in the back seat or trunk of my car. The only two options that work for me are the Roadie 24 and the Tundra 45 (in terms of space efficiency, the Tundra 35 is the lowest performing among all YETI coolers, so I'd skip it).
If you'll be using yours for hunting, you may want the Tundra 210—while the 125 is large enough to fit a quartered deer, the 210 is the most space efficient of all YETI's coolers.
For special purposes like rafting or bringing on to a boat, check the dimensions to see if your new YETI will fit under the leaning posts: the Tundra 75 is a good place to start.
So which size are you getting?
FAQs