Compare All
RTIC 20 Qt
YETI Roadie 24
Igloo BMX 25
Overall Score
Bottom Line
In the 20-25 quart hard sided cooler category, the RTIC 20 Qt wins the value-for-money category. In insulation tests, it was only beat by the YETI Roadie 24 (which had three hours, or 5% more insulating power). But the RTIC's price is roughly 60% less. Plus, with features like the bear lock, drain plug, and slimmed down stainless steel handle, I think the RTIC 20 Qt is the best small hard cooler you can buy.
The YETI Roadie 24 is my top small camping cooler. Compared to other hard-sided coolers in the same size category, the Roadie 24 has better insulation and it's more practically easy to pack into your car and hit the road. Plus, because it's around three inches taller and three inches slimmer, it makes for a more convenient seat or table-top when camping.
The Igloo BMX 25 cooler is the most budget friendly cooler I've tested in the 20-25 quart category. It performed the worst (out of four brands) in my insulation and ice-retention tests, but not by very much. The best performing was the YETI Roadie 24, but that only outperformed the Igloo by 5 hours (about 8% better). The Igloo is much less expensive than YETI, too. Otherwise, the Igloo is ugly, but it gets the job done.
Pros

I like the dual rubber gasket drain plugs and the dual padlock spaces
The value-for-money is tremendous compared to the most popular competitor
It's fairly easy to open with a single hand and I like the locking mechanism on the handle

The Roadie 24 has best in class (20-25qt) insulation
The taller shape is more convenient when packing a car, and is helpful as a seat or a table when camping
The hinges stay open and the latches are far easier to open than the competition

The Igloo BMX 25 offers excellent value-for-money when considering the insulating power and how Igloo compares to YETI, RTIC, and Orca
With a liquid capacity of 25 quarts, the BMX 25 holds much more than other small hard-sided coolers
Because it's blow-molded and not roto-molded, it's a much lighter than other coolers (nearly 50% the weight of its heaviest competitor)

Cons

The handle can sometimes pop out—it's easy to pop in, but it can be annoying at times
The RTIC 20 is the heaviest cooler in its category

Because it's taller, you need to layer the contents—if you need something at the bottom, you'll have to plunge your hands into the ice and dig around for a while
It's not air-tight, meaning water will likely leak if this is tipped over
There's no drain

It's blow-molded and not roto-molded, which means the plastic is a little more flimsy and less durable overall
There's no gasket in the lid so it's not watertight (and that also reduces the insulating properties)
It's ugly and doesn't look nearly as cool as most competitors

Value

(10%)

Capacity

(10%)

Insulation

(30%)

Durability

(20%)

Ease Of Use

(15%)

Portability

(10%)

Features

(5%)

Buy Now
Buy Now at RTIC
Buy Now at YETI
Buy Now at Amazon

Specs
RTIC 20 Qt
YETI Roadie 24
Igloo BMX 25
Shelf Life of Food (Measured Days Below 40ºF)
70 hours
73 hours
68 hours
Construction
Rotomolded, commercial grade insulating foam
Rotomolded, close-cell PU insulation
Blow-molded, foam insulated

Show All Specifications
Compare All
RTIC 20 Qt
Overall Score
Bottom Line
In the 20-25 quart hard sided cooler category, the RTIC 20 Qt wins the value-for-money category. In insulation tests, it was only beat by the YETI Roadie 24 (which had three hours, or 5% more insulating power). But the RTIC's price is roughly 60% less. Plus, with features like the bear lock, drain plug, and slimmed down stainless steel handle, I think the RTIC 20 Qt is the best small hard cooler you can buy.
Pros

I like the dual rubber gasket drain plugs and the dual padlock spaces
The value-for-money is tremendous compared to the most popular competitor
It's fairly easy to open with a single hand and I like the locking mechanism on the handle

Cons

The handle can sometimes pop out—it's easy to pop in, but it can be annoying at times
The RTIC 20 is the heaviest cooler in its category

Value

(10%)

Capacity

(10%)

Insulation

(30%)

Durability

(20%)

Ease Of Use

(15%)

Portability

(10%)

Features

(5%)

Get It
Buy Now at RTIC
Specs
RTIC 20 Qt
Does it Fit a Wine or 2L Bottle Standing Upright?
No
Exterior Dimensions
17.75"L x 13.75"W x 15"H
Frosty Brew Rating
80 hours
Safe Meat Rating
70 hours
True Liquid Capacity
22 quarts
Weight
19 lbs empty

Show All Specifications
Compare All
YETI Roadie 24
Overall Score
Bottom Line
The YETI Roadie 24 is my top small camping cooler. Compared to other hard-sided coolers in the same size category, the Roadie 24 has better insulation and it's more practically easy to pack into your car and hit the road. Plus, because it's around three inches taller and three inches slimmer, it makes for a more convenient seat or table-top when camping.
Pros

The Roadie 24 has best in class (20-25qt) insulation
The taller shape is more convenient when packing a car, and is helpful as a seat or a table when camping
The hinges stay open and the latches are far easier to open than the competition

Cons

Because it's taller, you need to layer the contents—if you need something at the bottom, you'll have to plunge your hands into the ice and dig around for a while
It's not air-tight, meaning water will likely leak if this is tipped over
There's no drain

Value

(10%)

Capacity

(10%)

Insulation

(30%)

Durability

(20%)

Ease Of Use

(15%)

Portability

(10%)

Features

(5%)

Get It
Buy Now at YETI
Specs
YETI Roadie 24
Construction
Rotomolded, close-cell PU insulation
Does it Fit a Wine or 2L Bottle Standing Upright?
Yes
Exterior Dimensions
15″L x 11″W x 17″H
Frosty Brew Rating
83 hours
Safe Meat Rating
73 hours
True Liquid Capacity
24 quarts
Weight
12.8 pounds empty

Show All Specifications
Compare All
Igloo BMX 25
Overall Score
Bottom Line
The Igloo BMX 25 cooler is the most budget friendly cooler I've tested in the 20-25 quart category. It performed the worst (out of four brands) in my insulation and ice-retention tests, but not by very much. The best performing was the YETI Roadie 24, but that only outperformed the Igloo by 5 hours (about 8% better). The Igloo is much less expensive than YETI, too. Otherwise, the Igloo is ugly, but it gets the job done.
Pros

The Igloo BMX 25 offers excellent value-for-money when considering the insulating power and how Igloo compares to YETI, RTIC, and Orca
With a liquid capacity of 25 quarts, the BMX 25 holds much more than other small hard-sided coolers
Because it's blow-molded and not roto-molded, it's a much lighter than other coolers (nearly 50% the weight of its heaviest competitor)

Cons

It's blow-molded and not roto-molded, which means the plastic is a little more flimsy and less durable overall
There's no gasket in the lid so it's not watertight (and that also reduces the insulating properties)
It's ugly and doesn't look nearly as cool as most competitors

Value

(10%)

Capacity

(10%)

Insulation

(30%)

Durability

(20%)

Ease Of Use

(15%)

Portability

(10%)

Features

(5%)

Get It
Buy Now at Amazon

Specs
Igloo BMX 25
Construction
Blow-molded, foam insulated
Does it Fit a Wine or 2L Bottle Standing Upright?
Yes (in the middle only)
Exterior Dimensions
20"L x 13.25"W x 16.3"H
Frosty Brew Rating
78 hours
Safe Meat Rating
68 hours
True Liquid Capacity
25 quarts
Weight
10.34 lbs empty

Show All Specifications
There's nothing quite as satisfying as packing up your car and hitting the road for a weekend away.
Whether you're just doing an overnight trip, or you're planning something bigger, a 20 qt cooler can make a great complement to your adventure.
Me? I love stuffing my 20 quart in the trunk and heading into the Blue Ridge Mountains.
You already know what your plans are, so let's get you the best 20 qt cooler possible.
Why You Should Trust Me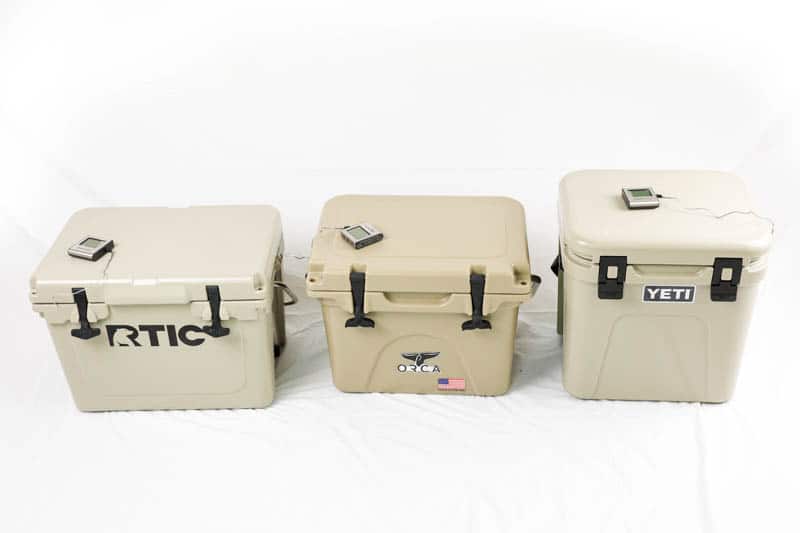 I've personally tested all these coolers in every meaningful way I could think of:
Ice retention and insulation tests
Watertight tests
Capacity and space efficiency
For my ice retention and insulation test, I placed seven pounds of ice in each cooler and measured the temperature of each cooler's contents over a four-day period. These tests were all performed at the same time in the same environment to ensure the surrounding heat didn't affect the data. You can see the data below: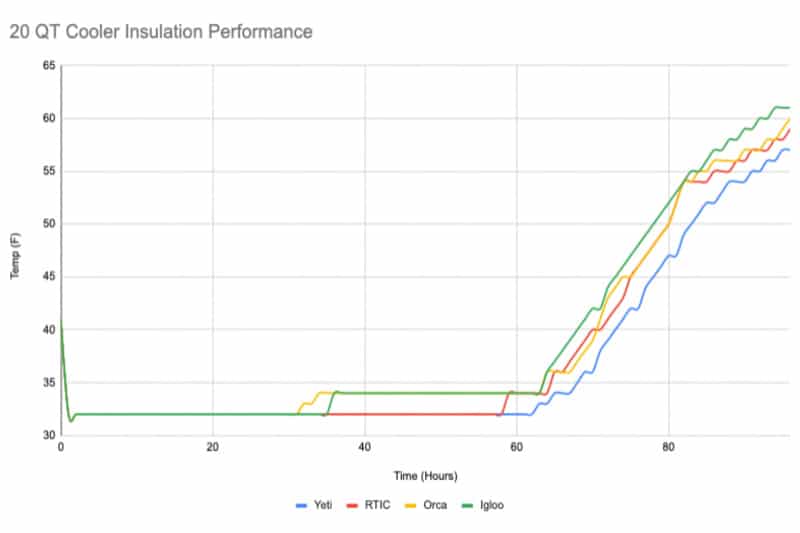 I've listed out how long each cooler kept its contents below 40 degrees, but it's important to note that this isn't necessarily the same performance you'll get in the real world: I didn't open the coolers throughout the test so I could purely test the insulation.
If you're using your cooler like a normal person (opening it in a non-temperature controlled environment), you probably won't get three days of fridge-like temperature like I did. But I think the controlled data allows us to see clearly how these compare against one another.
5 Best 20 Quart Coolers Right Now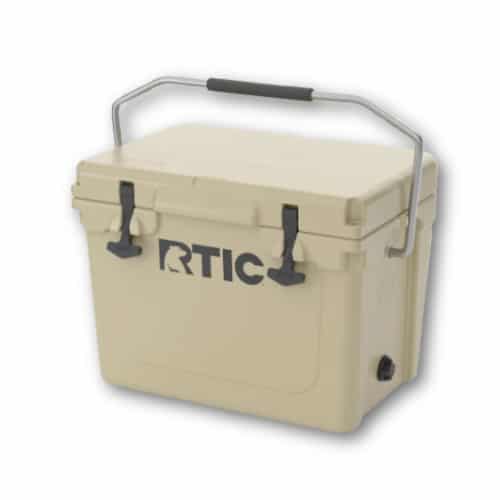 True Liquid Capacity: 22 quarts

Hours Below 40º F: 70 hours
Pros:
I like the dual rubber gasket drain plugs and the dual padlock spaces
The value-for-money is tremendous compared to the most popular competitor
It's fairly easy to open with a single hand and I like the locking mechanism on the handle
Cons:
The handle can sometimes pop out—it's easy to pop in, but it can be annoying at times
The RTIC 20 is the heaviest cooler in its category
The RTIC 20 Qt is loaded with features and balances quality and performance with price. While it's the heaviest of the coolers I tested, the build quality and details make this my favorite of the small hard-sided coolers.
Rubber gaskets on the dual drain plugs, two spots for bear locks, and a locking mechanism for the stainless steel handle all make the RTIC 20 Qt a powerful travel partner.

True Liquid Capacity: 24 quarts

Hours Below 40º F: 73 hours
Pros:
The Roadie 24 has best in class (20-25qt) insulation
The taller shape is more convenient when packing a car, and is helpful as a seat or a table when camping
The hinges stay open and the latches are far easier to open than the competition
Cons:
Because it's taller, you need to layer the contents—if you need something at the bottom, you'll have to plunge your hands into the ice and dig around for a while
It's not air-tight, meaning water will likely leak if this is tipped over
There's no drain
The king of coolers prevails: the YETI Roadie 24 performed the best in my ice retention and insulation tests.
It's also the easiest to use, with a taller and slimmer exterior and effortless latches on the front. But don't forget that the Roadie 24 is the most expensive of the bunch.
Because of the unique shape, the YETI Roadie 24 isn't a good "beer-only" cooler: it can't store many cans. But when I took it out for an overnight camping trip, I brought a six-pack and some burger patties, lettuce, tomatoes, and a few other perishables: it was the best at packing a variety of goods.
If money isn't an issue, the YETI Roadie 24 is the best of the best.

True Liquid Capacity: 25 quarts

Hours Below 40º F: 68 hours
Pros:
The Igloo BMX 25 offers excellent value-for-money when considering the insulating power and how Igloo compares to YETI, RTIC, and Orca
With a liquid capacity of 25 quarts, the BMX 25 holds much more than other small hard-sided coolers
Because it's blow-molded and not roto-molded, it's a much lighter than other coolers (nearly 50% the weight of its heaviest competitor)
Cons:
It's blow-molded and not roto-molded, which means the plastic is a little more flimsy and less durable overall
There's no gasket in the lid so it's not watertight (and that also reduces the insulating properties)
It's ugly and doesn't look nearly as cool as most competitors
You know Igloo—they've been around forever and there's a chance you've owned one in the past. Or your dad did. Or his dad did…
Because the BMX 25 uses blow-molded construction and not rotomolded construction, it has thinner plastic: this has its pros and cons.
The Igloo BMX 25 is the lightest of all the coolers I tested, and it also has the most carrying capacity by a significant margin, despite being roughly the same size on the exterior.
On the down side, it's the least durable and performed the worst on my insulation and ice retention tests.
But for insulation and ice retention, it still held its own—it wasn't far off from the rotomolded coolers. So if you can get over the ugly looks of the Igloo BMX 25, you're getting a fantastic cooler for an excellent budget-friendly price.
Pros:
The stainless steel bar handle is huge—there's no way this thing is breaking or bending
The cargo pouch on the back is extremely convenient
It's made in the USA (Ohio to be specific)
Cons:
The handle can sometimes pop out—it's easy to pop in, but it can be annoying at times
It's very heavy, even when empty
The ORCA 20 Qt is another excellent cooler and is definitely worthy of consideration. It didn't make my top three list, mainly because the rubber latches are difficult to work with.
It performed nearly identically to the RTIC 20 Qt in the insulation and ice-retention test, though it carries a bit less and can't fit as many cans.
But there are two things about ORCA that make it deserving a spot on this list: it's made in the USA, and it has an amazing cargo net on the back that's incredibly helpful.
Honestly, of all the features from all the different coolers, the cargo pouch was the most helpful. It's ideal for storing a pocket knife, a phone, or your bottle caps when you're on the lake.
Pros:
The latch system is a breeze to use with a single hand
A cut-out on the back ensure that it doesn't constantly bang into your shin and thigh—it's easy to carry
Compared to rotomolded coolers, it's lightweight
Cons:
The exterior design is top-heavy, which can make it difficult to efficiently pack in the back of a car
Like the other coolers on this list, the Pelican 20QT Elite can hold ice for several days and is among the best of the best in this size category.
Where the Pelican really excels is when you're carrying it around. It has a taller, thinner shape like the YETI Roadie 24, and it has an arch carved out where the cooler naturally swings by your leg.
No other cooler I've seen has this, and it makes a huge difference when you're lugging a full cooler around.
If you're walking your cooler down a long pier, boat dock, or across a few hundred yards of hot sand, you may want to consider the Pelican 20QT Elite.
Best 20 Qt Cooler: Test Results and Analysis
I tested all of these coolers at the same time in the same way. I placed them all in a temperature controlled room, placed seven pounds of ice in each, and measured the internal temperature of a hot dog with a probe.
I didn't open the coolers at any point during this test. While the results won't reflect real-world application, they serve as a good reference for how these coolers compare against each other.
Value
Value is a bit subjective as you may be looking for a specific feature and you may place more "value" in that.
I like a cooler that holds its ice for a long time, is durable, and looks awesome. And I don't want it to cost too much. Because those are my top concerns, I like the RTIC 20 Qt the best. 
You can watch me cut the RTIC 20 in half and compare it to the YETI Roadie in my video below:
But if you're about performance above all else, the YETI Roadie 24 is the winner.
Of course, if you just want a cooler that can carry a lot and works well for a day or two, then the Igloo BMX 25 is a great choice. Or if you only want USA-made, the ORCA is the way to go.
As you can see, it's difficult to say which is the most valuable, but for my money, I like the RTIC 20 Qt.
Capacity
In terms of true capacity, the winner is the Igloo BMX 25, which is also the least expensive. Also, because the Igloo is made with thinner plastic, it can also carry a greater number of cans relative to its liquid quart capacity.
The graph below shows the ratios of how many cans each cooler can hold compared with the liquid quart capacity. It's meant to be a measure of "space efficiency," or how much can you practically put in your cooler.
The Igloo BMX 25 not only carries more liquid volume, but it's also more efficient with that space.
The next best is the RTIC 20 Qt, which performed the best among the rotomolded coolers (which are more durable and have better insulation).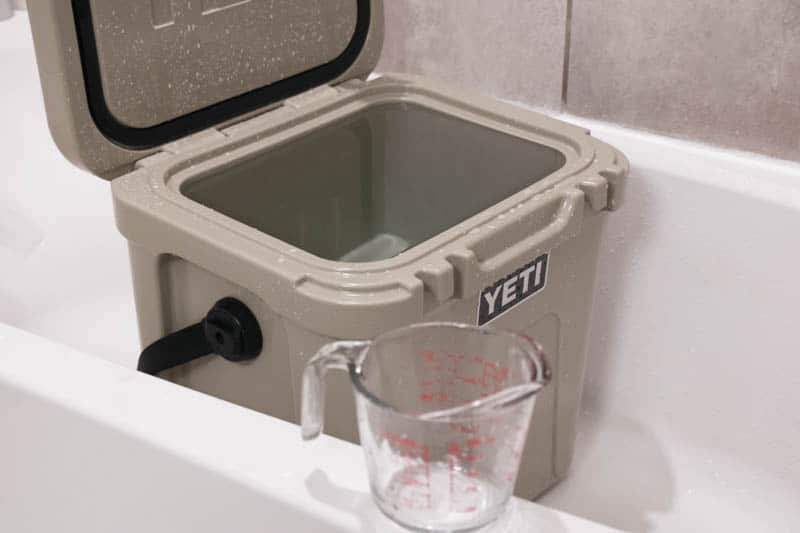 One thing to note in the graph above is that while the YETI Roadie 24 performs the worst in terms of space efficiency, this is only a measure of how many cans fit into the cooler. The Roadie 24 isn't a good beer-only cooler, but I actually liked it more than the other coolers when carrying a variety of things (stuff to make burgers over the campfire, plus a six-pack). 
You can see more of what I mean, plus watch me cut the YETI Roadie in half in my video below:
Insulation
The YETI Roadie 24 is the winner of my ice retention and insulation tests. It not only cooled faster, but it also held its contents at freezing and below 40 degrees for the longest.
Surprisingly, all the coolers (including the budget-friendly Igloo BMX 25) held their contents near freezing for about 60 hours before the ice really started melting and the water temperature started creeping up. Check out the graph below:
The RTIC and ORCA were basically neck-and-neck throughout the entire test. While the RTIC technically came in second, I view their insulation as performing the same.
The blow-molded Igloo came in last, but you can see that it didn't lag behind by much, though the difference came most starkly around day four.
It's important to note though that real-world results probably would've looked much different. The Igloo doesn't have a rubber gasket at the top like all the other coolers. If these coolers were in 80-90 degree heat, the ice in the Igloo would've melted a lot faster because the heat would've crept in the lid.
Durability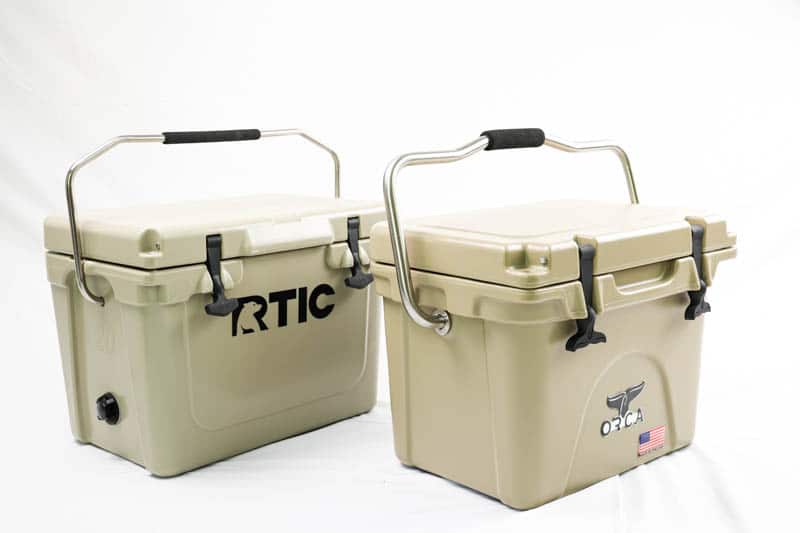 It's hard to test durability. I supposed I could've kicked all of these coolers off the back of a moving truck, but alas: I didn't. So I'm judging this based on feel.
The ORCA 20 Qt feels the most sturdy. Its stainless steel bar is almost twice the gauge size as the RTIC 20 Qt, and its rubber latches are so secure that it's actually hard to open and close them (which is a problem).
The YETI and RTIC both feel incredibly solid, and I doubt there's anything you could do to destroy these (I mean, there are plenty of ways you could, but you'd have to try).
The Igloo BMX 25 feels the least sturdy—it's plastic is far thinner and blow-molded construction is less structurally sound than rotomolded construction in general. But it's not like the Igloo is just falling apart—it's also a solid cooler. But we're comparing it to absolute tanks.
Ease of Use
Again, this is another subjective category, but if I had to say which one I liked using the most, I'd pick the YETI Roadie 24, with the Pelican 20QT Elite coming in second.
Both of these are taller and more narrow, which I thought made them easier to carry (because I'm 6'1"—it might be different for shorter folks).
The latches on the YETI Roadie 24 are the best—they're smooth, easy to use with one hand, and they keep the cooler sealed.
The cutout on the back of the Pelican really helped keep the cooler from hitting into my thigh and shins, which made it much easier to carry. If you're not walking very far with your cooler, it probably won't make a difference, but if you have to carry your cooler 50 yards or more, those bashes add up.
The RTIC and Igloo were both decently easy to use, but nothing special.
But the ORCA's t-handles were downright difficult to open and close. The rubber is stiff and not very pliable. While this makes the cooler completely sealed and extremely sturdy (hence it being the most durable in my opinion), it also makes it the most difficult to use.
Portability
The YETI Roadie 24 wins in the portability category for a few key reasons. It's pretty lightweight at 13 pounds (the Igloo is 10 and the Pelican is 12, and the ORCA and RTIC are 18 and 19 pounds, respectively). The nylon handle stays close to the body so its exterior dimensions match the actual amount of space it takes in your trunk.
For all other coolers, you have to add about two or three inches to account for the steel or plastic handles.
When I consider the weight and how well each cooler packs into my car, I think the YETI Roadie 24 is the easiest to lug around.
Features
For features, RTIC and ORCA are battling it out for the top spot. But I think ORCA has the best features overall.
The ORCA and RTIC are the only coolers I tested that have drain plugs, though the RTIC has two. I'm not sure why it has two for such a small cooler, as one does the job just fine. Rather than a second drain plug, the ORCA has a cargo net in the back, which is the most useful feature on any of the coolers.
If you want to keep your cooler bear-safe, the ORCA, RTIC, and Pelican all have spaces where you can add a bear-lock.
Do You Really Need a Drain Plug?
For 20-25 quart coolers, I never had an issue just tipping it over and draining out excess water that way. The coolers are relatively light and easy to maneuver, so I don't think a drain plug is really necessary (it's a different story for larger coolers, though).
Still, if you're going on a two or three day adventure and you're carrying ice, you'll want to drain the water out of your cooler at least once.
Things to Consider Before Buying a 20 Qt Cooler
A 20 quart cooler doesn't carry as much as you need for a full weekend camping trip for two. It's close, and it might work if you're not bringing many perishables. But if you plan on bringing beers and food that needs to stay cold, I recommend a 40 qt cooler.
20 quart coolers are best for overnight trips, day trips, lunches and picnics, and as a complement to a larger cooler.
How Much Does a 20 Qt Cooler Hold?
Most 20 qt coolers can hold at least 18 cans (many can hold more), and can hold up to twenty pounds of ice. However, I think packing seven pounds of ice is all you'd want (and maybe even less—I think three pounds is ideal to leave room for other things).
For instance, in the YETI Roadie 24, I was able to pack three pounds of ice, a six-pack of canned beer, a head of lettuce, a tomato, cheese, and four burger patties. And even then I had some room left over.
How Many Cans Does a 20 Qt Cooler Hold?
All 20 qt coolers should be able to hold at least 18 cans, though some brands like RTIC are able to hold 22 cans. It's important to note, however, that if you pack 22 cans in your 20 qt cooler, you won't have room for anything else, including ice.
I think 12 cans is a reasonable number to expect if you include some ice and one or two other things.
Which Cooler Is Right For You?
After all the tests, I think the best bang-for-your-buck is the RTIC 20 Qt.
My favorite to use, however, is the YETI Roadie 24. But I'm not entirely sure the added performance and ease of use is worth the added cost.
The Igloo BMX 25 impressed me with how much it holds and well it did with insulation compared to YETI and RTIC. It's the best cooler on a budget, but ultimately, I'm willing to spend more to get something I'm confident will last for life.
While YETI, RTIC, and Igloo make my top three list for the best 20 qt cooler, ORCA and Pelican are also in the conversation.
ORCA didn't win in any category, but it has an amazing cargo net and is made in the USA. Its big flaw is in how stiff the rubber handles are. The Pelican 20QT Elite also is close, but the top heavy design makes it a bit difficult to make space for in the trunk of a car.
If I could recommend only one 20 qt cooler, it'd be the RTIC 20 Qt.
FAQs