When I bought my first YETI cooler (Roadie 24 in Desert Tan), I was psyched.
About 20 minutes after it arrived, I jumped online and saw the King Crab orange YETI.
I'll be honest with you—I really wished I knew that bright orange was available. I love my Desert Tan, but it's no King Crab. And there are the red YETI coolers, pink YETI coolers—so many YETI cooler colors.
I don't want you to live with the same regrets I do…ok, maybe it's not that serious.
But in this YETI cooler color guide, I'm listing out every YETI hard cooler color there is, including colors that are rare, discontinued, and which colors are probably going to make a comeback soon.
Every YETI Cooler Color Ever Made (Rare and Discontinued)
YETI makes a ton of different colors for their coolers. There are some standard colors that are available on their site year round, and there are some limited edition colors that can only be found from third party retailers.
I've been following YETI for years, so I have a pretty good idea of when they release new cooler colors, and which limited edition colors seem to be the most popular.
Standard YETI Colors
White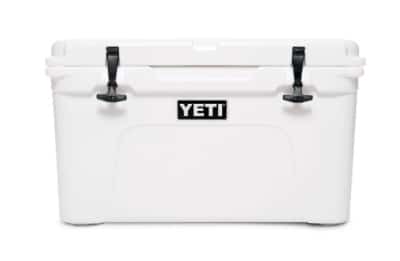 White is the most basic and universal YETI cooler color. Every hard sided YETI cooler is available in White, including the monstrous YETI Tundra 350.
This color is available year-round in every size YETI offers.
They're easy to find on YETI's online store and third party retailers. It's a classic and goes with everything. I like White because it'll match any other YETI color you get next. So if you get a Tundra 45 in White, and later you decide to get the Roadie 24 in a limited edition color, they'll look good together.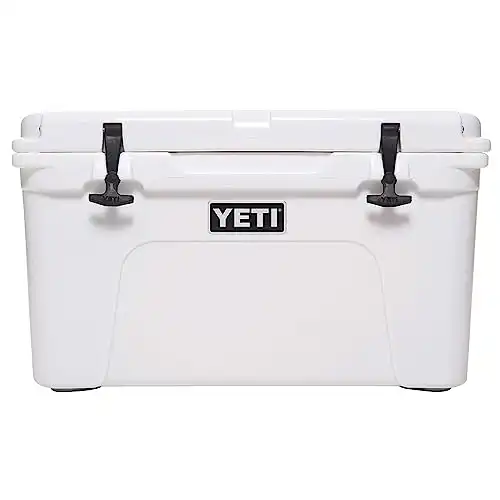 YETI Tundra 45
The YETI Tundra 45 is the best cooler for ice retention and insulation of all the coolers I tested. It's my personal favorite, too, though other brands like RTIC and Igloo can carry a similar amount and have the same versatility. Technically speaking, though—the YETI is the best.
Buy Now at Amazon
Buy Now at YETI
We earn a commission if you make a purchase, at no additional cost to you.
Desert Tan
Desert Tan is my personal favorite YETI cooler color. It's neutral but has a rugged edge to it. And it's not flashy at all.
Brighter colors like King Crab and Seafoam Green do well on fishing vessels (they're easily spotted if they go overboard), but Desert Tan is better for us land-locked folks. If you like overland adventures or packing up for a camping trip, you'll like the Desert Tan YETI.
Desert Tan is available in most YETI cooler size, including the Roadie 24 and the Tundra 35-105.
Once you hit the larger sizes like the Tundra 75, Yeti only offers those in White and Desert Tan. Starting at 110 and beyond, YETI's are only available in White.
Desert Tan hides scuffs and scratches well, and it also doesn't discolor as much as the white when repeatedly exposed to red clay dirt (something I deal with in North Carolina).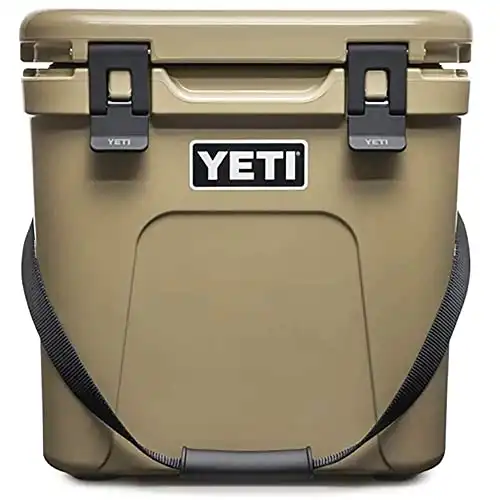 YETI Roadie 24
Compared to other hard-sided coolers in the same size category, the Roadie 24 has better insulation and it's more practically easy to pack into your car and hit the road.
Plus, because it's around three inches taller and three inches slimmer, it makes for a more convenient seat or table-top when camping.
Buy Now at Amazon
Buy Now at YETI
We earn a commission if you make a purchase, at no additional cost to you.
Navy
Navy got its start as a limited edition YETI color, but it was so popular, YETI brought it on as a standard option for the Tundra 65 and smaller.
Navy is the darkest YETI color available, which also means it absorbs the most heat from the sun. I don't think the extra heat-absorption makes much of a difference, but technically speaking, the Navy won't hold ice for as long as a White or Desert Tan cooler will.
Practically speaking, though, I think getting a color you like is more important than an hour or two of cold-retention, especially considering that a YETI cooler can hold your food below 40 degrees for at least 60 hours under the right conditions.
Charcoal
The Charcoal color isn't as widely available as the Navy, White, or Desert Tan. It's a standard color for the Roadie 24, but a limited edition for the Tundra series.
Like White, Charcoal is neutral and goes with anything, though it's quite dark and runs into the same heat-absorbing issue as the Navy.
If you have a dark gray or black truck, the Charcoal Roadie is a slick look.
YETI Limited Edition Colors
YETI almost always has a limited edition color running. The brand tends to release these limited edition colors as a set, so you can snag a cooler, tumbler, and even some apparel that all matches.
Bimini Pink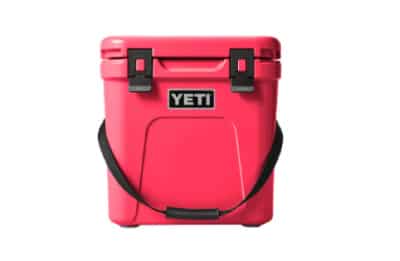 Launched as part of YETI's spring 2022 limited edition collection, Bimini Pink is a total hit for folks looking to buy a pink YETI cooler.
Interestingly, YETI is only stocking the Roadie 24 in Bimini Pink, so if you're looking for a pink YETI Tundra, you won't find it with this release.
Offshore Blue
Offshore Blue was launched alongside Bimini Pink as part of the 2022 limited edition YETI colors. It's pretty close to a true royal blue, and unlike past limited edition colors, Offshore can't actually be found on YETI's coolers.
The brand is only releasing Offshore tumblers, mugs, and accessories.
Harvest Red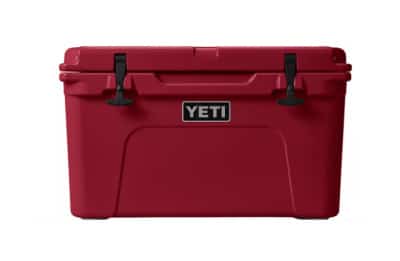 Harvest Red is a deep, almost maroon, color, and it was only released for the Roadie 24, Tundra Haul, and Tundra 45.
YETI is selling the last of these (it was released around the holidays), so if you like the color and you see it in stock, you may want to grab it right away. It won't be back at least until the next holiday, and it may never return.
Highlands Olive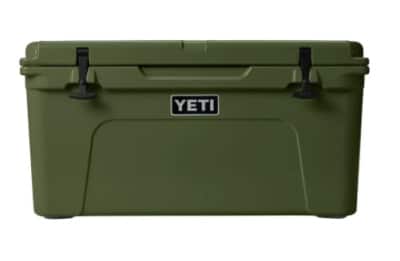 Highlands Olive was part of the fall release along with Harvest Red, and there's a bit more availability at the time of writing. You can still find the Tundra 65 and Roadie 24 available in Highlands Olive, and there's a huge variety of tumblers and soft sided coolers in this color.
The Highlands Olive is ideal for fly fisherman and anything river-related. Of course, the green isn't as easily identifiable as some brighter colors, but I'm a sucker for this military green.
Rare YETI Colors
Some of these colors are still out there, but you have to do a little digging. You won't find these on the YETI site at the moment (unless they re-release them, which YETI does from time to time).
You're most likely going to find these colors around Memorial Day (the unofficial start of summer) and November (for holiday buying).
I personally wouldn't wait for one of these colors, but if you're set on adding one of these rare YETI colors to your collection, those are the two points where they'll likely be most readily available. Just don't take my word for it, because YETI sometimes doesn't drop these colors, and we may never see these produced again.
Coral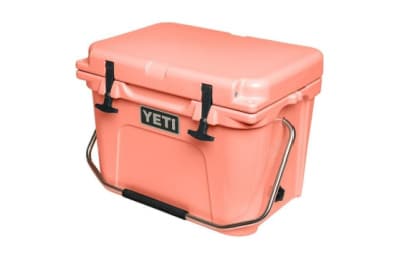 Coral is an ideal beach color cooler—it just looks like a relaxed day with your toes dug in the sand.
Coral is a popular alternative to YETI's Pink coolers, which have been discontinued (though the Pink has resurfaced on October 1st for Breast Cancer Awareness month).
But Coral is much more of a salmon-type color, and it's no longer available on YETI's site. But you can sometimes find it on third-party sites.
King Crab
This bright orange color is what made me regret getting the Desert Tan so quickly. This is perfect for hunting, marine use—anything where you'd want a bright orange cooler.
The King Crab YETI isn't for everyone, but if you're anything like me, it just speaks to you.
While this color has been sold out on YETI's site for a while, you can still spot one from time to time in stores or on other third party retailers.
Seafoam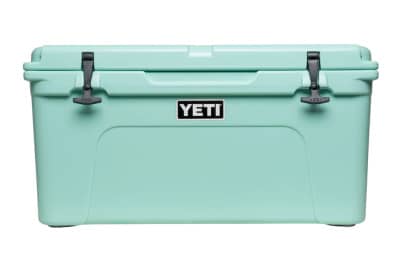 Seafoam used to be a year-round standard color, but like the seasons, things change.
While this color was originally very popular, it started to fade in dominance against Desert Tan and White. My guess is that as YETI grew to mass-popularity, folks didn't resonate with the color as much as the marine community had.
Still, it's a beautiful pastel color that can be found every once in a while.
Sharptail Taupe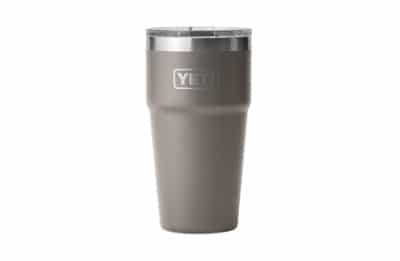 Shaptrail Taupe was part of the 2021 fall color launch (along with Highlands Olive and Harvest Red), but it went quickly. It was particular popular for tumblers and mugs, which might still be available at YETI.
I haven't seen the Sharptail Taupe color available on any site, but you might still be able to pick one up used.
Discontinued Yeti Colors
Ice Blue
Ice Blue was one of the original YETI colors, and it eventually was replaced by Seafoam.
In 2018, the color made a comeback for one season, but hasn't returned since. Your only chance at getting an Ice Blue YETI is buying a used one. I haven't seen any of this color online.
River Green
River Green is a beautiful match for the red clay soil of Oklahoma, Texas, and North Carolina. It's a complementary color to rich red, meaning it's basically the exact opposite.
I really like this color, especially as it's a little lighter than the Highlands Olive (so it doesn't absorb as much heat). Unfortunately, this made a seasonal debut and hasn't returned since.
Pink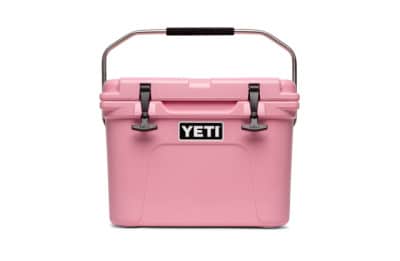 Pink YETI coolers are probably the most requested uncommon YETI color. YETI does a great job of guarding when or if they'll release more Pink coolers.
I searched and couldn't find any available—they sell out fast.
If you're specifically looking for a Pink YETI cooler, your best bet is to search the YETI site on October 1st. Since October is Breast Cancer Awareness month, they've timed their release then.
Where can I buy a pink YETI cooler?
YETI sells pink coolers on their site, but since it's a rare, limited-edition color, it's not always available.
You can check third party retailers, or search around October 1st to see if YETI is selling any

If you see a Pink YETI available, snag it up. These coolers don't last very long and there's a long line of people waiting for theirs.
High Country
YETI almost always makes their coolers with a uniform color for the lid and body. But the High Country is an exception. With a two-toned body and orange details and hardware, this unique Yeti is a beauty.
But, like many limited edition colors, it's no longer available, and there's a good chance it's never coming back.
Is YETI Coming Out with New Colors in 2022?
YETI has been operating on a pretty consistent color release schedule. You can expect eight new colors in 2022 for their tumblers, mugs, and accessories, and four new limited edition colors throughout the year.
YETI typically times these releases with the seasons. YETI dropped two new colors in spring, and they'll also release two colors in the fall for the colder season.
YETI also has smaller runs throughout the year where they'll bring back fan-favorites like Pink, Red, and King Crab. But knowing the timing of those is more difficult.
Will there be a camo YETI?
YETI sells camo accessories, and you can find a seat cover for the Tundra 45, which will give your YETI a little camo flair.
However, there hasn't been a purely camo YETI release.
I imagine that YETI would've done this release already if possible, but since we haven't seen a camo YETI to date, my guess is that they're still working on it.
Because YETI coolers are rotomolded, getting a clean camouflage pattern is extremely difficult, if not impossible. You can get a Desert Tan YETI and add your own decals to make it a camo YETI, but otherwise, YETI has no plans to release a camo cooler.
Can you get a custom YETI color?
You can customize your YETI cooler with a college logo or a professional sports logo, but as of writing, you're not able to get a custom color.
As of right now, you're limited to the current YETI cooler colors available.
Which YETI Color Are You Getting?
So many choices, so little space to store all these coolers!
The most versatile YETI cooler colors are White and Desert Tan. Those colors look good on their own, and they'll match any future YETI you decide to get, too.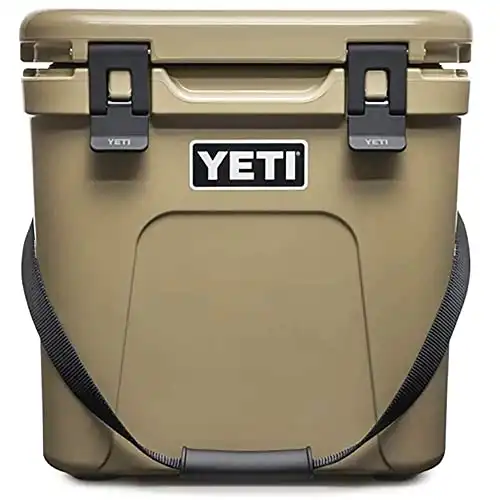 YETI Roadie 24
Compared to other hard-sided coolers in the same size category, the Roadie 24 has better insulation and it's more practically easy to pack into your car and hit the road.
Plus, because it's around three inches taller and three inches slimmer, it makes for a more convenient seat or table-top when camping.
Buy Now at Amazon
Buy Now at YETI
We earn a commission if you make a purchase, at no additional cost to you.
I'm a fan of the Desert Tan myself.
However, I'm not immune to the allure of the limited edition colors—for me the King Crab orange is amazing.
Ultimately, you can't go wrong with a YETI. It's all about the adventure, anyway.
FAQs
Is YETI getting new colors?
Yes, YETI typically releases two new limited edition cooler colors every spring and fall (for the hot seasons and the cold seasons). You can expect those releases somewhere around March and September, though YETI will change the exact date depending on the year.
Does your YETI color matter?
The most important factor is whether you like your YETI cooler color or not. If you like it, that's the most important thing. However, dark colors absorb heat more, so they technically don't perform as well as lighter colored coolers for ice retention. For that reason, White is technically the best. But practically speaking, color doesn't make much of a difference.
Does a white YETI cooler get dirty?
If you keep your white YETI scratch-free, it'll stay crisp and white for years. However, as the plastic starts to pick up scratches and scuffs from adventures, dirt will accumulate along the scars and will make your cooler more dirty. Many see this as a point of pride, though—a sign of a life full of adventure.